Blender File Formats are available for purchase and automatic download. Use amazing 3D content and create where you're comfortable.
Daz to Blender Updates
Support for importing multiple figures with morph list work
Dropdown to choose between different figure's morphs
Customize Export Path for Blender
Updates to Support Figure Compatibility
Read all FAQs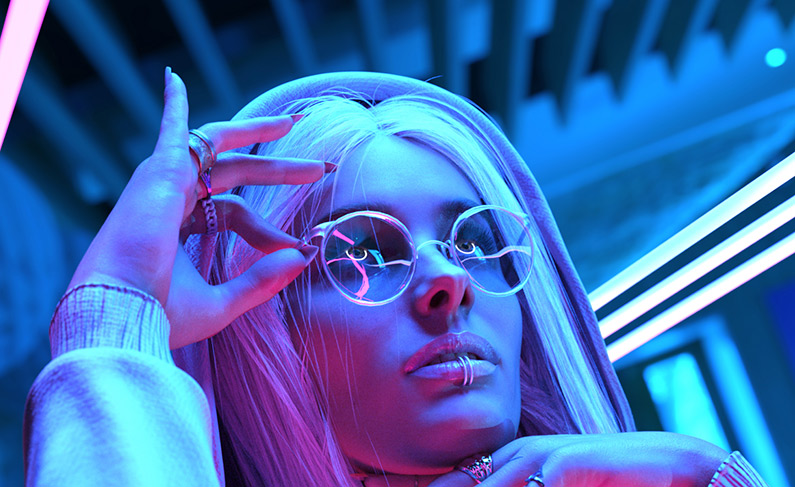 Daz to Blender Products
Blender File Formats are available for purchase and automatic download. Use amazing 3D content and create where you're comfortable.
explore daz shop
Shop & Transfer

Quick & Easy Transfer
Transfer thousands of Daz 3D assets to your 3D software simply, quickly, and easily.

shop & transfer
Shop thousands of 3D Assets to convert or download files directly for your 3D software.

Drag & Drop Simplicity
Daz Studio is ready to mix, match, blend, and pose. Render in Studio or transfer to your 3D software for the final touch.

Hassle Free
There's no fuss, rigging, polygons or converting materials - Daz takes care of all of that!

Diverse Library
With characters, hair, props, poses, and environments, Daz has everything you need for your next project.

Studio Quality
Daz content is high quality and high resolution, ready for cinema-quality renders, professional videos & game development.
Download Studio for free, and get automatic access to Daz Bridges for Maya, Blender, 3ds Max, Cinema 4D,Unreal & Unity (also free!)
Explore over 30,000 items to find your perfect product. Then use Studio's built-in sliders, morphs, smart content and auto-fit to make your perfect character & scene.
Once your character or scene is ready to go, open your Daz Bridge and import your project to your 3D software simply, quickly and easily.
Then put in the finishing touches - pose, animate, render!
Learn More
The Daz to Blender Bridge
How to Install Daz To Blender 2022 with Blender 3.2
How to Transfer a Figure to Blender 3.2 using the Daz To Blender 2022
How to Transfer a Figure with Morphs and use Native Subdivisions with Daz To Blender 2022
How to Transfer Figures with Animations using Daz To Blender 2022
FAQ's
Daz Studio plugin rewritten using a shared Bridge library for faster future development of all Bridges
Support for Blender 3.x
Integrated Blender plugin installer with custom addon path support
Normal map generation option
Daz Studio:

You can install the Daz to Blender Bridge automatically through the Daz Install Manager or DazCentral. This will automatically add a new menu option under File > Send To > Daz to Blender.
Alternatively, you can manually install by downloading the latest build from the Github Release page and following the instructions there to install into Daz Studio.

Blender:

The Daz Studio plugin now comes embedded with an installer for Blender. From the Daz to Blender Bridge Dialog, there is a section in the Advanced Settings for installing the Blender plugin.

Select your Blender version from the drop down menu. If your Blender version is not directly supported by this drop-down or you have a custom plugins folder, select "Custom Addon Path."

Then, click the "Install Plugin" button. If you selected a supported version of Blender, you should see a popup dialog box confirming if the Blender plugin was successfully installed for your version of Blender. Be sure to restart Blender after installing the Blender Plugin.

From Blender, open the Blender Preferences window by selecting Edit > Preferences from the Blender main menu.

In the Blender Preferences window, click the Addons button found along the left side of the window.

Scroll down the list of addons, and check the box next to "Import-Export: DazToBlender" to enable the plugin. A DazToBlender tab should now appear on the Blender toolshelf, which is a set of vertical tabs along the right edge of the Blender viewport window.

You are done installing the Daz to Blender Bridge!

The following steps are for people who wish to use the "Custom Addon Path" installation option.

If you chose "Custom Addon Path," you will see a window popup to choose a custom scripts or addons folder. The starting folder path will be the location where Blender stores preferences and files for each version of Blender.
If you are using an unsupported version of Blender, you should see a subfolder corresponding to your version from the starting folder path. Open that folder, select the scripts folder, and click "Select Folder."
If you have configured a custom scripts path from the Blender Preferences window, navigate to that folder and click "Select Folder." You will then see a confirmation dialog stating if the plugin installation was successful.
Open your character in Daz Studio.
Make sure any clothing or hair is parented to the main body.
From the main menu, select File > Send To > Daz to Blender.
When the dialog pops up, choose which type of conversion you want to do: "Static Mesh" (no skeleton), "Skeletal Mesh" (character or with joints), or "Animation".
To enable morphs or subdivision levels, click the check box to enable that option. Click the "Choose Morphs" or "Bake Subdivisions" button to configure your selections.
Click Accept, and wait for a dialog popup to notify you when to switch to Blender.
From Blender, click the "DazToBlender" tab from the Blender toolshelf, located along the right-edge of the Blender viewport.
For Daz Characters or other assets transferred with the "Skeletal Mesh" option, select "Import New Genesis Figure". For props or other assets transferred using the "Static Mesh" option, select "Import New Env/Prop".
Morphs:

If you enabled the Export Morphs option, you will see sliders for each morph in the "Morphs List" section of the DazToBlender toolshelf.

Animation:

To use the "Animation" asset type option, your figure must use animations on the Daz Studio "Timeline" system.
If you are using "aniMate" or "aniBlocks" based animations, right click in the "aniMate" panel and select "Bake To Studio Keyframes".
Once your animation is on the "Timeline" system, you can start the transfer using File > Send To > Daz To Blender.
The transferred animation should now be usable through the Blender Animation interface.

Subdivision Support:

Daz Studio uses Catmull-Clark Subdivision Surface technology, which is a mathematical way to describe an infinitely-smooth surface in an efficient manner. Similar to how an infinitely-smooth circle can be described with just the radius, the base resolution mesh of a Daz figure is actually the mathematical data in an equation to describe an infinitely-smooth surface. For software that supports Catmull-Clark Subdivision and subdivision surface-based morphs (also known as HD Morphs), there is no loss in quality or detail by exporting the base resolution mesh (subdivision level 0).
For software that doesn't fully support Catmull-Clark Subdivision or HD Morphs, we can "Bake" additional subdivision detail levels into the mesh to more closely approximate the detail of the original surface. However, baking each additional subdivision level requires exponentially more CPU time, memory, and storage space.
Since version 2.8, Blender has built-in Catmull-Clark Subdivision Surface support like Daz Studio. This is much faster and should be used instead of baking out subdivision levels during the Bridge export process.
Blender Subdivision is fully supported by modern Daz figures, which will transfer to Blender as a fully compatible level 0 subdivision surface, ready for subdivision operations through Blender.
You can find out more about Blender's built-in Subdivision Support here: https://docs.blender.org/manual/en/3.1/modeling/modifiers/generate/subdivision_surface.html
Genesis 8 and 3 characters transfer completely with the Blender Bridge. Their textures, clothing, and hair will also transfer (unless the hair is dForce strand-based).
Posed Genesis 3 and 8 figures transfer to Blender.
Props used in conjunction with characters transfer.
Environments and props transfer to Blender when parented together. Assets not parented together must be selected and transferred individually for now.
Genesis and Genesis 2 characters also transfer but may not have full IK rigging support.
Daz animals transfer to Blender with basic skeleton support and no IK rigging.
The Daz to Blender Bridge works with all currently supported versions of Blender including 3.12, 2.90 LTS, and 2.83 LTS. Supported render engines are Eevee and Cycles.
The Bridge isn't the only way you can use Daz characters in Blender — your can also purchase Daz characters that have the Blender file format, download the manual files, and open them directly in Blender. You can also export certain content out of Studio as .obj or .fbx files for use in third-party software.
It's up to you and your needs! Daz poses transfer over to Blender successfully, so you can import your character in the middle of the action or continue to pose after transferring.
This is a one-way transfer from Daz to Blender, so once you transfer your content from Studio to Blender, you can't transfer it back. You can, however, make changes to content in Daz Studio before you transfer, as well as readjust in Studio and transfer again.
Daz products have to be transferred to Blender, either by using the Blender Bridge or manual export and import. Once in Blender, you can combine any assets you already have with your Daz products.
To learn how to transfer assets, please see the FAQ "How do I use the Blender Bridge?"
You can see all of the compatible assets for this Bridge in DazCentral. You can also use the software filter in the store to see all available assets for the Daz to Blender Bridge.