Unity File Formats are available for purchase and automatic download. Use amazing 3D content and create where you're comfortable.
Daz to Unity Updates
Mac support
Improved HDRP Shaders
New URP Shader support
Built-In Standard Shader support
Genesis 8.1 and PBRSkin support
Animation support
Improved Subdivision support
Improved Emission support
Read all FAQs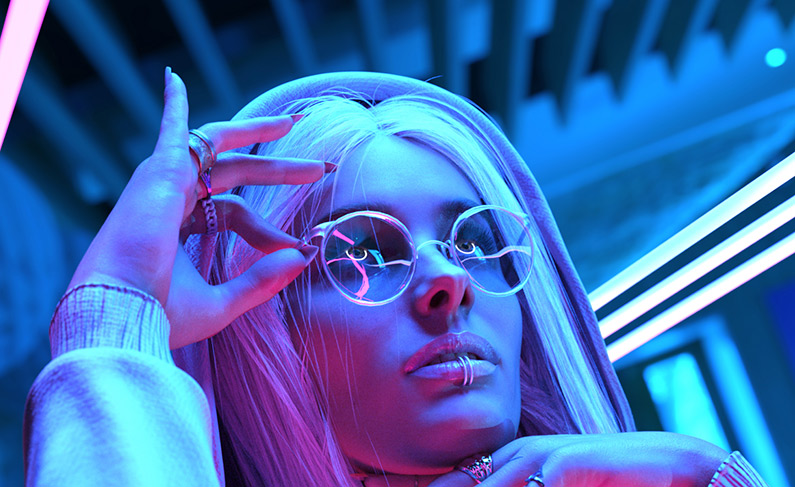 Daz to Unity Products
Unity File Formats are available for purchase and automatic download.
Use amazing 3D content and create where you're comfortable.
explore daz shop
Shop & Transfer

Quick & Easy Transfer
Transfer thousands of Daz 3D assets to your 3D software simply, quickly, and easily.

shop & transfer
Shop thousands of 3D Assets to convert or download files directly for your 3D software.

Drag & Drop Simplicity
Daz Studio is ready to mix, match, blend, and pose. Render in Studio or transfer to your 3D software for the final touch.

Hassle Free
There's no fuss, rigging, polygons or converting materials - Daz takes care of all of that!

Diverse Library
With characters, hair, props, poses, and environments, Daz has everything you need for your next project.

Studio Quality
Daz content is high quality and high resolution, ready for cinema-quality renders, professional videos & game development.
Download Studio for free, and get automatic access to Daz Bridges for Maya, Blender, 3ds Max, Cinema 4D,Unreal & Unity (also free!)
Explore over 30,000 items to find your perfect product. Then use Studio's built-in sliders, morphs, smart content and auto-fit to make your perfect character & scene.
Once your character or scene is ready to go, open your Daz Bridge and import your project to your 3D software simply, quickly and easily.
Then put in the finishing touches - pose, animate, render!
FAQs
Mac support
Improved HDRP Shaders
New URP Shader support
Built-In Standard Shader support
Genesis 8.1 and PBRSkin support
Animation support
Improved Subdivision support
Improved Emission support
1. Install the Unity Bridge.
2. At the same time, have your Unity project open for an automated process (We recommend the latest Unity 2021 LTS). When starting a new project, select either 3D (HDRP), 3D (URP), or the 3D (core). 3D (core) is the same as Built-in renderpipeline or Standard-Shader.
3. In Daz Studio: Open up your character in Daz Studio.
4. Make sure any clothing or hair is parented to the main body.
5. Locate Daz to Unity under File > Send to > Daz to Unity.
6. A dialog will pop up; choose where you want to export to. Choose an Assets folder inside your project for Unity. Choose the name you wish the folder in Unity to be, and choose which type of conversion you want to do, either "Static Mesh" (no skeleton), "Skeletal Mesh" (character or with joints), or "Animation" (character must already be transferred).
7. Choose which morphs you want to transfer.
8. Once you press accept, the file will transfer over in Unity.
9. Wait for a dialog box to notify when the transfer to Unity is complete.
10a. If you enabled the option to Install Unity Files, then you should see an import window to install the HDRP package — just click Import.

10b. However, if you do not see an import window, or if you are using 3D (URP) or 3D (core) templates, go to your Project Panel and navigate to Assets\Daz3D\Suppport. Find the package for your project and install it. For HDRP, double-click "DazToUnity HDRP". For URP, double-click "DazToUnity URP". For Core (aka Built-In or Standard-Shader), double-click "DazToUnity Standard Shader".
10c. Once the Unity Files are installed, the Daz Studio asset should automatically begin importing.

11. If this does not happen automatically, locate the DTU file and launch the Daz to Unity Bridge window via Daz3D > Open Daz3DBridge Window, ensuring the DTU file is selected, and click the thumbnail button in the top right corner of the window.
12. For HDRP, you will also need to install the Iray diffusion profile. Attach the diffusion profiles under Assets/Daz3D/DiffusionProfiles to your HDRenderPipelineAsset (typically, this lives in Assets/Settings/HDRenderPipelineAsset) in the Material > Diffusion Profile List.
13. After that, you're done and your character is ready for whatever comes next!
14. Please note that the import can take a few minutes, especially for a large or complex figure. The transfer will take longer on the first import.
A Bridge is a cross-platform port that converts 3D Assets — in this case, amazing Daz content — and brings it to another software, complete with rigging, textures, and other Studio modifications.
Genesis 8 and 3 content works with the Unity Bridge. Supported materials include Iray Uber, PBR SP, Daz Studio Default, and OmUberSurface shaders.
The Daz to Unity Bridge works with Unity versions 2019.4 LTS, 2020.3 LTS, and 2021.3 LTS. It supports HDRP, URP, and Core (aka Built-in/Standard-Shader) render-pipelines.
The Daz to Unity Bridge works with Windows 10 and 11.
The Daz to Unity Bridge also works with macOS 10.12 and above.
The bridge isn't the only way you can use Daz content in Unity — your other option is to purchase Daz items that have Unity file formats, download the manual files, and upload them directly into Unity. Select items in the store also include Unity files, which can either be added directly or converted for use in your software of choice. Otherwise, you can export certain content out of Studio as .obj or .fbx files for use in third-party software.
Studio can also natively export .obj and .fbx files, which Unity imports fairly well. Rigs, textures, and Daz materials may not transfer with fidelity using these file methods, but the skeletal mesh is well supported. If you want full support with textures, the Bridge is the optimal method.
It's not recommended that you pose before exporting, as that will likely cause certain features to break. You can add textures in Studio before you transfer or continue to texture your character in Unity after the transfer.
This is a one-way transfer from Daz to Unity, so once you transfer your content from Studio to Unity, you can't transfer it back. However, you can make changes to content in Daz Studio before you transfer, and you can always readjust the original asset in Studio and transfer it again.
Daz products have to be transferred using the Unity Bridge. Once in Unity, you can combine any assets you already have with your Daz products.
You can combine assets in Unity, but the tool brings in a new scene, so it needs to be imported into the original Unity scene after.
They can be combined by exporting the assets out of the scene that was created with the Bridge and then imported into the Unity scene. Use copy and paste if both the scenes are opened or by exporting the objects and importing in the original scene in Unity once it's open.
To learn how to transfer assets from Daz Studio, please see the FAQ "How do I use the Unity Bridge?"
In Daz Central, you can see all of the compatible assets for this Bridge. You can also use the software filter in the store to see all of the available assets for the Daz to Unity Bridge.
Animations are supported in the Daz to Unity Bridge. Make sure you've transferred your character first before using the Bridge to bring in the animation.